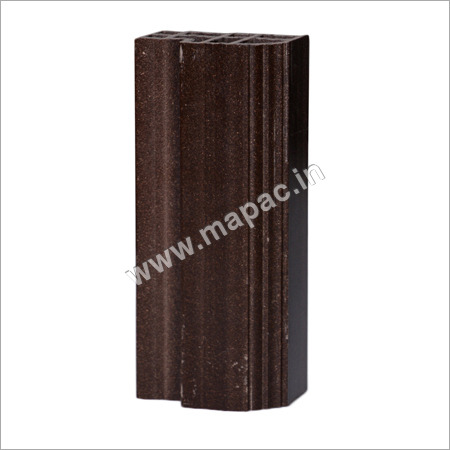 WPC Designer Door Frame
Product Code : 45
Product Description
We are counted amongst as the foremost manufacturers and suppliers of the best quality WPC Designer Door Frame that is extensively demanded in homes, restaurants, offices, shops and hotels due to their excellent finish and elegant look. This door frame is designed using quality approved wood with the help of ultra-modern technology in compliance with set industry standards. Offered WPC Designer Door Frame is checked on various measures of quality to assure their quality. Moreover, we provide this frame in diverse finishes and sizes at reasonable prices.
Features:
Ruggedness

Aesthetic design

Alluring look

Termite proof
Specifications:

Wood Plastic Composite(WPC) Characteristics:
* Water resistant and Termite Resistant

* Excellent dimension stability.

* Anti-Corrosion characteristics,

* High durability with easy maintenance and no cracks and no splitting.

* Excellent strength and load bearing characteristics.
* Anti - slippery surface finish.
* Not required to be painted but can be well painted as well.
* Easy to assemble.
* Outstanding screw retention in holding the doors.
* UV resistant which increases the life span of the product and
* Easy to cut, fasten, screw and resistant to decay i.e. easy to work with carpentry tools.
* Outstanding energy saving and sound proofing properties.
* Environment friendly and 100% recyclable.



Not totally replacing the feel of wood but giving a new meaning and name to the wood, this new age engineered product WPC is like a miracle solution to reducing the wear and tear to the products
specially being used in the construction purpose.

We we are one of the earliest beginners in manufacturing technology for the production of
new age Eco-friendly product Wood Plastic Composite (WPC) in India with the factory
area of over 20000 Sq. Mtrs. equipped with the latest twin screw technology extrusion machines for WPC production. WPC also known as Greenwood is the new age product which combines the properties of
wood and plastic offering a highly durable material. Builders, interior and exterior
decorators, furniture manufacturers are adapting this unique technology material across
India and globe very quickly. Government bodies, defense bodies and other civic authorities
are also exploring ways of using the WPC for interior and exterior use at the various public
places like parks, stations, tourist spots and other various public properties which should
withstand the unexpected wear and tear from the occurrences of nature and human actions.
The usage of various daily use and house hold products made from wood clearly states the
love for wood by the Indian people.But due to weather fluctuations, water and termite
issues etc. we face lot of wear and tear to the wood products. This new age product
i.e. WPC is like a miracle to these drawbacks of wood.
WPC materials has a fast growing market not only in India but all over the world majorly
in the countries like USA, European Union, Germany , Australia, Japan, China etc.
Our product WPC door frames are specially designed in connection to the same,focusing
very carefully towards the solutions of the customer feedback and no complain aspect to our
previous experiences, WPC will do wonders in finding solutions to various problems
that come across while using natural wood.
A very true form of WPC frames are resistant to moisture, corrosion, termite resistant,
weather resistant, ageing resistant, crack resistant, does not split. WPC frames are highly
durable and very low maintenance product. The WPC frames are thou a combination of
wood and plastic, it has the good feel of wood to it. WPC frames can be very effectively
used in the interior, exterior, toilets, gardens, buildings, farms, sea or beach areas etc.
with very ease.
The WPC door frames have various advantages over Wood, PVC, Aluminum and other
heavy metals which are prone to weather deterioration and WPC frames withstands this
above all with the additional advantages of easy to work with the latest and available
carpentry tools at the work site. Also works well with the screws and holds them intact
for the purpose of hanging the doors or windows.
Contact Us
FACTORY ADDRESS : Village Paddhar, Kandherai Road, Bhuj - Kutch, Bhuj, Gujarat, 370105, India
Phone :+917042465351